The Best Chess Boards to Buy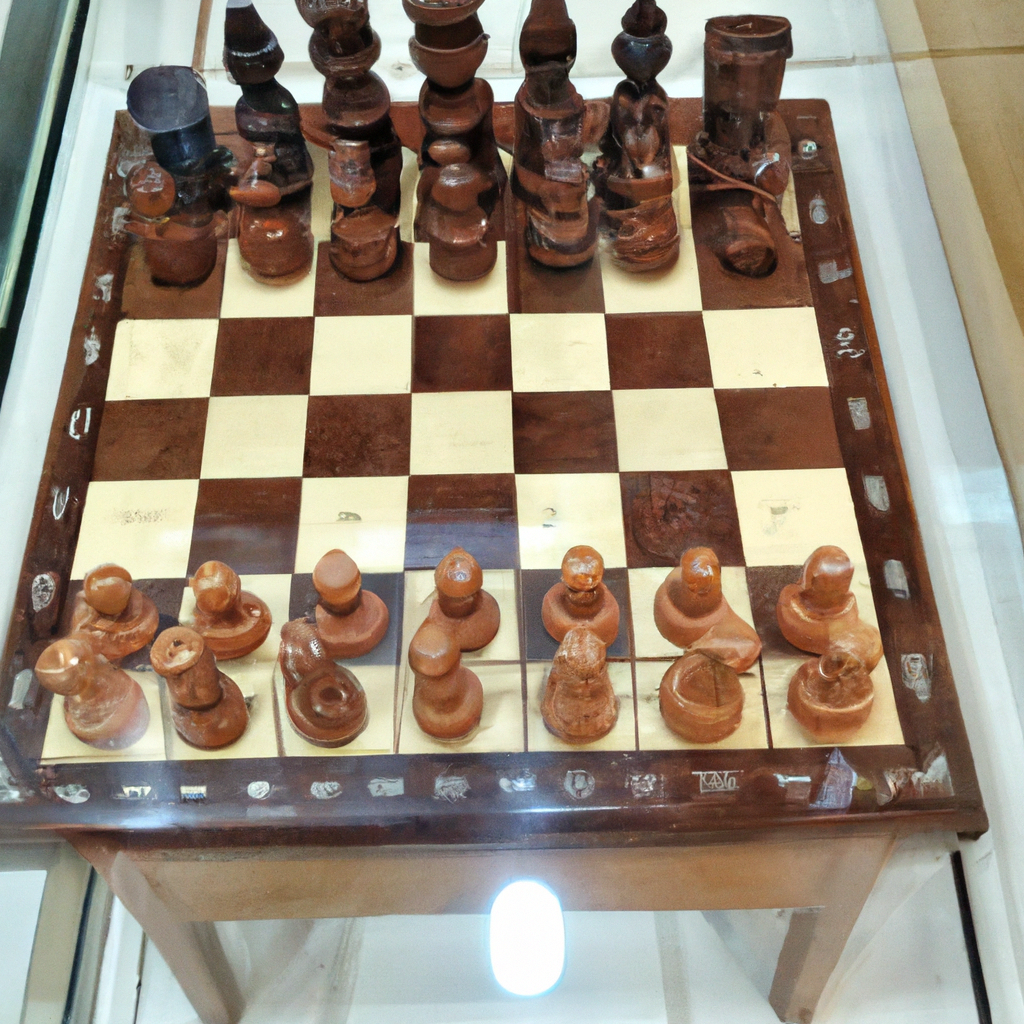 Introduction
When it comes to buying a chess board, you have a wide range of options to choose from. Whether you're a chess beginner or a seasoned player, there is something out there that can meet your needs. From the classic wood boards to more modern 3D printed options, there is a chess board to suit everyone's needs.
Let's take a closer look at the possible options you have when it comes to purchasing a chess board:
Types of chess boards
Chess boards come in a variety of styles, materials and sizes to suit your individual taste and preference. From traditional wooden boards to modern glass or marble designs, choosing the right board for you can be a fun and exciting process. To help you decide what kind of chessboard is best for you, it is helpful to know about the different types of chessboards available. This guide will take you through the various types, their features and benefits so that you can make an informed decision when it comes to buying a chess board.
Wooden boards
The most common type of chessboard is the wooden board. Made from hardwoods such as rosewood or ebony, these boards are usually finished with lacquer or wax for more protection over time. In addition to the standard rectangular shape, some wooden boards come in circular shapes for those who prefer a more unique look. Wooden chessboards are usually quite expensive but they offer an unbeatable level of quality and will last many years if properly cared for.
Plastic boards
An economical option is the plastic chessboard. These lightweight plastic boards are made from high-density polyethylene and they won't warp or splinter like wood can. They often come in bright colors with embedded pieces so that all components stay together during transport or storage. Although not as durable as wooden boards, plastic chessboards get the job done at a fraction of the cost of their wooden counterparts and require much less maintenance over time.
Glass and marble boards
For a sleek contemporary look, glass or marble chessboards offer an eye-catching design guaranteed to draw attention at any game night gathering! The smooth surfaces provide an ideal playing area while remaining steadfastly durable after many years' use. Both glass and marble sets require minimal care; just keep them clean with mild soap and water solution to avoid any major damage over time.
Different materials used to make chess boards
There are a variety of materials used to make chess boards, ranging from high-end exotic woods to classic stone surfaces. Depending on your budget and preferences, each material offers advantages and disadvantages. Knowing the different types and their characteristics will help you choose the best board for your needs.
Wooden Chess Boards: Wooden chess boards are some of the most classic boards you can purchase. While they often come with a higher price tag, these premium wooden boards can give you decades of use with proper care. Wood pieces and wooden chess board look beautiful together, offering a timeless elegance that makes them popular among the chess enthusiast community. Options here range from budget-friendly plywood models to luxurious mahogany veneer for more serious game playing experiences.
Glass Chess Boards: Glass chessboards offer unique modern styling as well as durability and easy care due to their low maintenance construction. Although glass may not represent traditional craftsmanship like other materials, it is still considered an elegant choice for any game room or den. It's also a great option if you're looking for something more affordable yet still quite attractive with its smooth texture that reflects light beautifully in all directions for hours of play.
Marble Chess Boards: Marble continues to be one of the most memorable choices when it comes to building luxurious chess sets fit for any collection or home office décor piece—but it doesn't come cheap! Whether you choose classic white marble or black granite, these classic natural surfaces will add beauty and character to your environment as well as providing an impressive playable surface all players will admire over time—and potentially pique others' interest in finally honing their strategic chess skills too!
Best Chess Boards
When it comes to purchasing a chess board, there is an overwhelming amount of options available on the market. With so many different types of chess boards available, it can be difficult to choose which one is best for you. It's important to consider the quality of the board, the playing surface, and the design of the board.
In this article, we will look into the best chess boards that are available to buy:
Wooden Chess Boards
Wooden chess boards are sleek in design and provide a classic look that's sure to fit in with any decor. The wood grain patterns not only add texture, but class to your game as well. A broad range of price points makes wooden boards an affordable way to enjoy the game of chess.
The types of wood used in wooden chess boards vary according to budget and style preference. A variety of designs and colors will suit both modern and traditional tastes, making it easy to find a board that fits right into your home. When selecting a wooden chess board, you'll want to pay attention to the quality of the finish and any intricacies engraved into the wood such as handles or legs.
Common varieties include:
Maple: Darker close grained wood with consistent coloration will work better for experienced players looking for high quality craftsmanship at higher price points.
Walnut: Considered the ideal choice for many enthusiasts because it has an attractive patterned grain that's also structurally strong making it a great choice for those seeking long lasting value and beauty in their sets.
Birch: Lightweight yet with unique natural markings giving this option an intriguing tone unburdened with excessive refinements making it great for casual players on a budget who are looking for creative solutions on limited resources.
Oak: This strong hardwood has fine texture and subtle lighter shades making it perfect for those who prefer handcrafted boards with more traditional designs while delivering great value within medium budget ranges.
Plastic Chess Boards
Plastic Chess boards are a great choice for players looking for an inexpensive, durable and easily transportable playing surface. Plastic boards come in three main varieties: classic, deluxe and tournament grade.
Classic boards are the most affordable option, providing similar quality to the more expensive deluxe boards but with a simpler design and often less attractive coloring.
Deluxe boards provide greater durability at a higher cost and will typically include folding or trays for pieces.
Tournament grade boards provide maximum stability for competitive play at a premium price.
Players who prefer plastic courts are usually distinguished from those who prefer wooden courts; wooden courts tend to highlight the aesthetics of the pieces while plastic court emphasizes the game itself. Plastic courts therefore provide a good compromise between ease of use, durability and price. Plastic chess sets typically last for years without showing signs of wear when cared for properly, making this investment an excellent long-term choice.
Magnetic Chess Boards
When shopping for the best chess boards, magnetic chess boards are an excellent choice for both beginner and advanced players. Magnetic boards keep your pieces in one place, enabling better concentration and careful planning during a game and making it difficult to knock over pieces accidentally.
Magnetic chess sets come in various sizes, with metal or rubberized bases for maximum stability. Many boards come with travel cases for easy transporting of all the pieces, so you'll never have to worry about losing them again. The individual board's squares can vary in size from small to large, depending on the product specifications.
High-end magnetic chess sets also feature elegant design elements such as wooden carving or intricate inlays that add a touch of style to the board when not in use. For those looking to buy a stunning chess set that will last generations, these options may be worth considering!
Travel Chess Boards
When looking for a chess board it is important to choose the right one for your needs. Travel chess boards are great for those who enjoy playing chess while traveling or on the go. These boards tend to be very portable and collapsible, making them easy to store and transport when not in use. There are also several different types of travel chess sets available on the market, each with its own advantages and disadvantages.
Magnetic/Folding Travel Chess Sets: Magnetic chess sets provide a great option for those who travel often, as they feature strong interior magnets to keep the pieces firmly in place during transport. Folding or soft fabric travel boards are also an option, which can work well for outdoor play given their weather-resistant construction. These usually come with internal pockets that store all of your pieces separately.
Mini-Chess Sets: Mini-chess sets are an excellent choice if you want something small enough to fit into a pocket or purse and can be taken anywhere at a moment's notice. They come in many different sizes, ranging from 2" by 2" all the way up to 5" by 5".
Standard Travel Chess Sets: Standard travel chess sets typically feature either wooden or plastic boards as well as carried cases that contain all of your pieces and play accessories; these offer good durability and protection from wear during transport. Though more expensive than other options, these types of chess sets come with much greater portability and ease of setup than their larger counterparts.
Regardless of the type of travel chess set you choose, it is important that it meets your expectations in terms of portability, style, quality of construction, durability, versatility and price range before making a purchase decision.
Where to Buy
There are many places you can find chess boards to buy. You can find them in retail stores, online retailers, and specialty stores. You may even find some second hand chess boards at flea markets or garage sales. Shopping for a chess board can be overwhelming so it is important to understand the different options available before making any purchase. Let's explore the various places to buy a chess board:
Retail stores
Online retailers
Specialty stores
Flea markets
Garage sales
Online Stores
The internet provides a wide selection of chess boards, with an array of colors and sizes. Many stores are available to purchase boards online. Depending on what style of board you're looking for, the selection ranges from traditional wooden boards to contemporary plastic versions. You can also find sets with different levels of craftsmanship, including a handmade or artisan-crafted board, in order to get the perfect board for your needs.
Some popular online retailers that offer chess boards include Not Just Chess and The Chess Store, who provide free shipping when ordering from their sites. Sites such as Amazon also provide a variety of chess sets, from wooden boards to perfectly sized tournament size pieces. Etsy is another great option for custom-made chess sets that can make excellent gifts or conversation pieces in anyone's game room.
Whether you are on the hunt for an affordable classic set or something more intricate like a handcrafted board with luxury pieces, there is an online store offering what you need at competitive prices. Before making your purchase be sure to read reviews if available as this will help ensure you have found exactly what you are looking for and that it will arrive as expected.
Local Stores
Learning to play a game of chess can bring endless hours of entertainment and is a great way to challenge yourself mentally. For novice players, selecting your first chessboard and pieces can be a daunting task – from selecting the size and color to metal or wooden pieces there is much to consider before you make your choice. One decision you must make before buying is whether you prefer purchasing in person at a local store or buying online.
Local stores offer the advantage of being able to view the product in person and speaking with an expert who can provide guidance. You can inspect the quality, choose different boards or sizes, and read customer ratings before making your purchase. Different stores will carry different varieties so if you don't find what you are looking for within one store it could be available only short drive away. Local stores may also offer discounts if purchased in bulk or special prices for members or club card holders; this could definitely benefit those that plan on playing regularly with friends.
When shopping locally some things to consider are:
Manufacturing delays
Limited inventory
Store closures due to holidays or moved stockrooms
All potential hinderances that have ease of purchase when shopping online instead.
Conclusion
After careful consideration, it is clear that buying a chess board can be a great investment. Not only are they aesthetically pleasing and classic game pieces, they are also a great way to sharpen your chess skills. Whether you are looking for a simple board or one that offers more features, you can find a board to suit your needs. With the right board, you can enjoy hours of classic fun.
Pros and Cons of Different Chess Boards
When buying a chess board, there are several types to consider. To help you choose, let's take a look at the pros and cons of each type.
Cloth Chess Boards:

Pros: Cloth boards are lightweight and portable, making them great for travel. They also come in a variety of colors and designs, giving you lots of choices when selecting a design that suits your tastes.
Cons: Cloth boards may not be as durable as other choices, so they may require replacement within a few years of heavy use.

Wood Chess Boards:

Pros: Wood boards can be beautiful additions to any home setting and they offer good durability while still being lightweight enough to transport easily. Wood boards also tend to be fairly inexpensive compared with other materials.
Cons: While wooden boards provide good durability overall, they may become warped over time if exposed to excessive moisture or humidity levels. The grain of the wood can also discolor some pieces if left in direct sunlight for an extended period of time.

Plastic Chess Boards:

Pro: Plastic chess boards provide excellent durability for up to five years or more if properly cared for, making them ideal if you are looking for an extra sturdy board that will last longer than either wood or cloth options. They come in a wide range of colors and designs, so finding one that complements your décor should not be difficult.
Cons : Plastic chess boards may attract dust more easily than other materials as well as causing sliding resistance when moving pieces around the board due to friction with the plastic surface material itself.
Tips for Buying the Best Chess Board
Whether you're a serious chess enthusiast or just a casual player, buying the best chess board for your needs is important. It's also important to take into consideration both cost and design. When selecting your next chess board, here are some factors to consider:
Size: Chess boards come in a variety of sizes and materials, from magnetic boards made from medium to thick woods to giant plastic foldouts that can fit easily in most rooms. Consider exactly how much space the board will need to fit in the room you plan on using it.
Material: Different materials can offer different features; with wood chess boards offering an elegant look while plastic may be more portable and easier to clean. Keep these considerations in mind when shopping around for the perfect board.
Design: No matter which material you choose, there is likely a plethora of designs available so take your time browsing through different styles before settling on one. Check out classic designs as well as novelty ones that feature vivid colors or nonstandard pieces. No matter what style you choose, remember it should be aesthetically pleasing as well as functional for playing chess games on.
Cost: Lastly, think about what kind of budget you have since different boards can have vastly different price points – ranging from cheap disposable sets meant for traveling all the way up to luxurious handcrafted boards made out of sustainably sourced exotic woods that may cost hundreds or thousands of dollars.
By keeping all of these factors in mind when shopping for a chess board, you can ensure that you get one that fits both your style and budget perfectly!
Frequently Asked Questions
Q: What size of chess board should I buy?
A: The size of chess board you should buy depends on what type of game you plan on playing. For a standard chess game, a board that is 12 inches square is adequate. For a larger game, a board that is 16 inches square is recommended.
Q: What is the best material for a chess board?
A: The best material for a chess board depends on the type of game you plan on playing. For a standard game, a wooden board with a felt or velvet-like texture is usually the best choice. For a more serious game, a board made of marble or granite is recommended.
Q: Where can I buy a chess board?
A: Chess boards can be purchased online or at many local stores that specialize in board games. It is also possible to find used boards at pawn shops and flea markets.