Empower Yourself: How to Craft a Unique Chess Set at Home
Chess is a game that has been played for centuries, and it's still incredibly popular today. While there are plenty of beautiful chess sets available for purchase, there's something special about crafting your own unique set at home. Creating your own chess set can be a fun and rewarding experience that empowers you to express your creativity and showcase your personality. In this blog post, we'll explore how you can craft a one-of-a-kind chess set right in the comfort of your own home. So, if you're ready to unleash your inner artist and learn some new crafting skills, keep reading!
Materials Needed to Craft Your Own Chess Set
To make your own chess set at home, you'll need a few basic materials. First and foremost, you'll need 32 pieces – 16 in white and 16 in black. You can purchase pre-cut wooden shapes from craft stores, or cut your own from the wood of your choice using a jigsaw or scroll saw. You will also need sandpaper to smooth out any rough edges.
Next, gather paints or stains for coloring the pieces. Acrylic paint is perfect for beginners as it dries quickly and is easy to clean up. You may want to use stencils to ensure uniformity when painting each piece.
Another important tool is an image reference of standard chess pieces that shows their dimensions and proportions so you can maintain accurate sizing when crafting your custom set.
Lastly, get some varnish – this not only adds shine but also protects the finished product against scratches and wear over time. By gathering these simple materials, you're now equipped with everything needed to create a personalized chess set right in the comfort of your own home!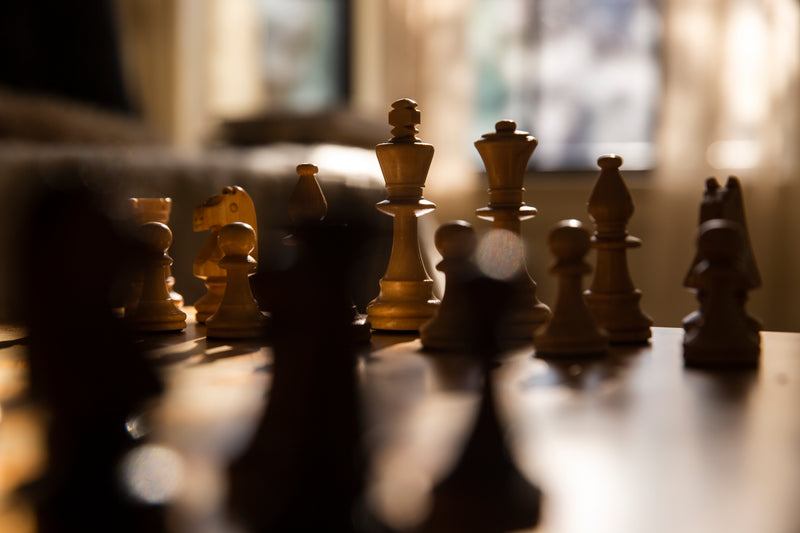 Designing Your Customized Chess Set: Tips and Tricks
Once you've gathered all the necessary materials, it's time to start designing your customized chess set! Think about what kind of theme or aesthetic you want for your pieces. Do you want a minimalist and modern design? Or do you prefer something more ornate and traditional?
One helpful tip is to sketch out your ideas before beginning to carve each piece. This will allow you to visualize how your pieces will look together and make sure they fit with the overall feel of your set.
You might also consider adding personal touches that reflect your interests or personality. For example, if you're a musician, consider carving musical notes onto the pieces. If you're into astronomy, carve stars or planets onto each one.
Another important aspect is making sure that each piece is easily identifiable by both players. Consider incorporating different textures or shapes so that even if two pieces are similar in color, they can be easily distinguished from one another.
Remember: there are no rules when it comes to designing your own chess set! Let your creativity run wild and make a set truly unique to yourself.
Step-by-Step Guide to Creating the King Piece
To start creating the king piece for your handmade chess set, you'll need a base material that's easy to work with. Polymer clay is an excellent option as it's malleable and hardens when baked in the oven. Begin by sculpting a cone-shaped piece for the body and another smaller one for the head using beige-colored polymer clay. Attach them together with liquid polymer clay adhesive.
Next, add details such as a crown on top of its head using gold metallic paint or foil sheets for texture. Use black paint to create eyes and eyebrows on each side of its face. To craft the cross shape atop its crown use a small strip of aluminum wire that you can bend into place.
The final touch is crafting its base from cork stoppers or any other material of your choice like felt or wood. The king should stand tall at 3-4 inches high, making it larger than most pieces in your set so that you can easily distinguish it from other pieces during gameplay.
Crafting the Queen, Bishop and Knight Pieces
Gathering Materials: Choosing the Right Medium for Your Chess Pieces
When it comes to making your own chess set, choosing the right medium for your pieces is crucial. Two popular options are polymer clay and wood. Polymer clay allows for intricate designs and vibrant colors, while wood offers a classic aesthetic and durability. Consider your artistic ability and preferred style when selecting a medium. Keep in mind that each option has its own unique challenges – polymer clay can be difficult to sculpt into precise shapes, while woodworking requires more tools and skill. Regardless of which one you choose, make sure to gather all necessary materials beforehand so you're fully prepared for the crafting process.
Designing Your Pieces: Tips and Tricks for Crafting Unique Queen, Bishop, and Knight Figures
Crafting the Queen, Bishop and Knight Pieces:
Designing Your Pieces: Tips and Tricks for Crafting Unique Queen, Bishop, and Knight Figures
When it comes to designing your own chess pieces, there are a few key things to keep in mind. First, consider the size and shape of each piece to ensure they are easily distinguishable from one another. Second, think about incorporating unique details or features that reflect your personal style or interests. For example, you could add intricate patterns or symbols to the bishop's hat or knight's horse. Finally, don't be afraid to experiment with different materials such as clay or wood to give your pieces a distinct texture or finish. By following these tips and letting your creativity run wild, you can craft a one
Sculpting and Carving: Techniques for Bringing Your Chess Pieces to Life
To truly make your homemade chess set unique, you'll need to put some time into sculpting and carving each piece. Start with a block of wood or clay, and use a chisel or carving knife to carefully shape the piece into its desired form. Ensure that each piece is balanced and stable by testing it on a flat surface before moving onto the next one.
When sculpting the queen, remember her powerful presence on the board – make sure she has bold features such as a crown atop her head. The bishop should be distinguished from other pieces with his pointed hat and intricate cross pendant. For the knight, focus on creating an interesting horse
Finishing Touches: Painting and Polishing Your Homemade Chess Set
Once you have crafted the basic shapes of the queen, bishop, and knight pieces for your homemade chess set, it's time to add some finishing touches. First up is painting. Choose colors that are easy to differentiate between each piece and make sure they match your overall design scheme. Use a small brush to fill in the details and let each coat dry completely before adding another layer.
After painting, it's time to polish your pieces so they have a smooth finish. A sanding block can help remove any rough edges or bumps on the surface of the wood. Next, use a soft cloth with some beeswax-based furniture polish to buff out any imperfections.
Remember, these final touches will give your homemade chess set its unique character and charm!
Bringing the Pawns Together: Finishing Touches for a Cohesive Set
To bring your DIY chess set together, it's important to focus on the pawns. These pieces may be small, but they are essential to the game. First, decide on a consistent shape and size for all of your pawns. This will ensure that they look cohesive and professional. Next, consider adding unique touches to each pawn to differentiate them from one another. For example, you could paint each pawn a different color or add small designs or symbols to represent different characters or themes. Finally, make sure that the pawns are sturdy enough to withstand regular use. Consider using a strong material like polymer clay or wood, and make sure that each piece is sanded and polished for a smooth finish. With these finishing touches, your DIY chess set will be ready for hours of gameplay!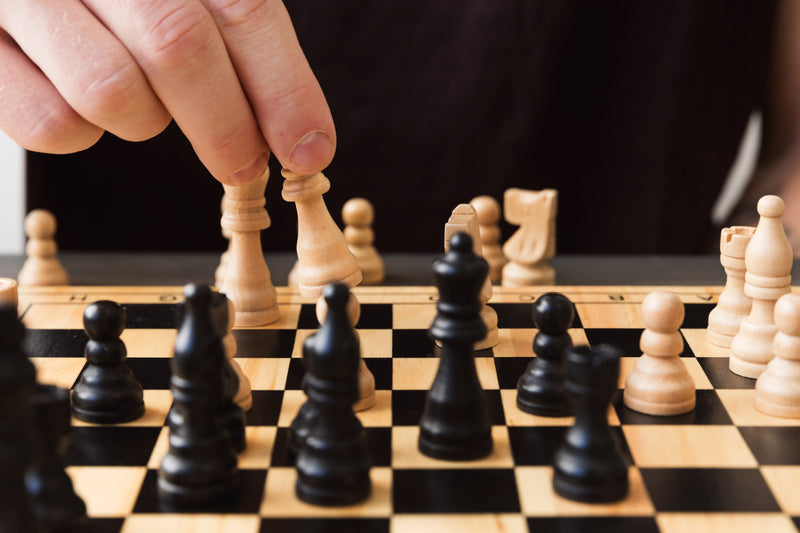 Showcasing Your DIY Chess Board and Pieces like a Pro
Once you've completed your DIY chess set, it's time to show off your hard work! Displaying your custom-made board and pieces can be just as fun as playing a game of chess itself. One way to showcase your project is by taking high-quality photos and posting them online in relevant forums or social media groups. This is also a great opportunity to connect with other chess enthusiasts who may have tips or feedback on your design.
Another way to impress others with your unique creation is by bringing it to local chess clubs, competitions or exhibitions. You could even host a friendly tournament using the handmade set as the main attraction. Sharing this experience with others could inspire them to try their own hand at crafting something special and one-of-a-kind.
Lastly, don't forget about protecting your homemade set for future use. Consider investing in a storage case specifically designed for chess sets that will keep each piece secure and organized when not in use. Not only will this prevent damage from occurring during transportation or storage, but it will also add an extra touch of professionalism to display the care taken over creating such an extraordinary item.
In conclusion, crafting your own chess set is a fulfilling and rewarding experience that empowers you to showcase your creativity and design skills. By following the steps outlined in this article, you can make a unique chess set that reflects your personal style and preferences. Remember to take your time during the creation process, as attention to detail is key when it comes to creating a cohesive and functional set.
We hope you enjoyed reading our guide on how to make your own chess set at home! If you're interested in more DIY projects or topics related to hobbies and crafts, check out our other content for inspiration. And most importantly – have fun with your new homemade chess set!
FAQ
Question: Who invented chess and when?
Answer: Chess was invented in India in the 6th century.
Question: What materials do I need to make a chess set at home?
Answer: You can use wood, clay, metal or even paper mache.
Question: How can I carve chess pieces without a lathe?
Answer: You can use a knife, chisel or sandpaper to shape the pieces.
Question: What is the easiest way to make a chess board at home?
Answer: You can paint a checkerboard pattern on a flat surface or use tiles.
Question: How can I make sure my chess pieces are the same size?
Answer: Use a ruler and a template to ensure consistency.
Question: But I have no artistic skills, can I still make a chess set?
Answer: Yes, you can purchase a chess set kit or use stencils to help you.
{"@context":"https://schema.org","@type":"FAQPage","mainEntity":[{"@type": "Question", "name": "Who invented chess and when? ", "acceptedAnswer": {"@type": "Answer", "text": "Chess was invented in India in the 6th century."}}, {"@type": "Question", "name": "What materials do I need to make a chess set at home?", "acceptedAnswer": {"@type": "Answer", "text": "You can use wood, clay, metal or even paper mache."}}, {"@type": "Question", "name": "How can I carve chess pieces without a lathe? ", "acceptedAnswer": {"@type": "Answer", "text": "You can use a knife, chisel or sandpaper to shape the pieces."}}, {"@type": "Question", "name": "What is the easiest way to make a chess board at home? ", "acceptedAnswer": {"@type": "Answer", "text": "You can paint a checkerboard pattern on a flat surface or use tiles."}}, {"@type": "Question", "name": "How can I make sure my chess pieces are the same size? ", "acceptedAnswer": {"@type": "Answer", "text": "Use a ruler and a template to ensure consistency."}}, {"@type": "Question", "name": "But I have no artistic skills, can I still make a chess set? ", "acceptedAnswer": {"@type": "Answer", "text": "Yes, you can purchase a chess set kit or use stencils to help you."}}]}