The Dominance of Wooden Chess Sets: Why They Trump Plastic Ones
For centuries, chess has been one of the most popular board games in the world. And with its popularity comes a wide variety of different chess set materials to choose from – plastic, metal, glass, and even stone. However, there's one material that has stood the test of time and remains the most popular choice among chess enthusiasts: wood. But why is this? What makes wooden chess sets so special? In this blog post, we'll dive deep into the world of wooden chess sets and explore their unique characteristics that make them a cut above the rest.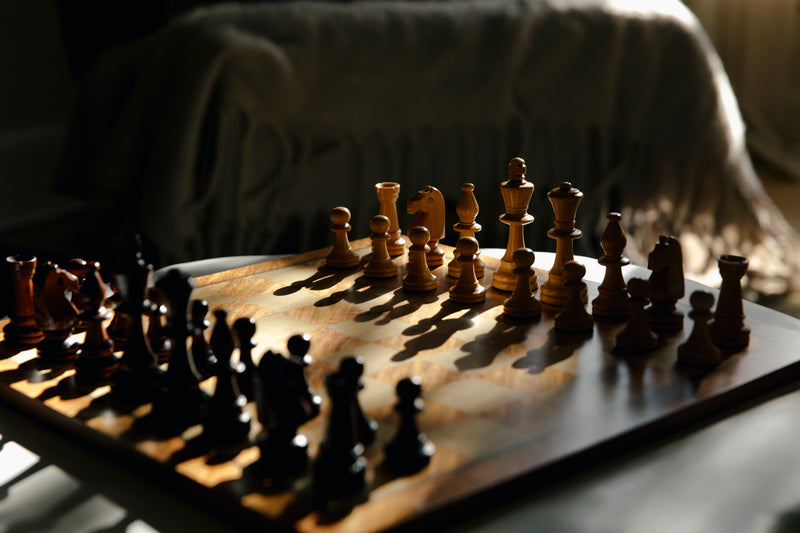 The Tradition and Authenticity of Wooden Chess Sets
Wooden Chess Sets have been a part of the game's history for centuries, making them an authentic and traditional choice. Many chess enthusiasts prefer wooden sets over their plastic counterparts since they feel more connected to the game when playing on an organic surface. The tactile sensation of wood and its unique scent heightens the playing experience and adds to the charm of the game.
Moreover, wooden chess sets are available in many different types of woods such as ebony, rosewood, sheesham, or maple which enhances player experiences with their rich textures and hues. Each type also has its unique grain pattern that makes it stand out from other woods.
Wood is natural material whose beauty only grows as it ages compared to plastics whose look deteriorates over time due to wear-and-tear or UV exposure. It is no wonder then that many professional tournaments worldwide use renowned wooden brands exclusively!
Quality and Durability: Why Wooden Chess Sets Last Longer
Quality and Durability: Wooden chess sets are renowned for their quality and durability, as they are made from solid wood. This makes them stronger and more resistant to wear and tear than plastic ones. Moreover, wooden pieces can be repaired if damaged, which is not usually the case with plastic pieces that tend to break or chip easily. The strength of a wooden chess set also means it can last many years without losing its texture or shape. Just like fine wine, aged chess sets develop character over time making them a valuable investment for collectors or aficionados who look out for vintage designs. In contrast, low-quality plastic sets could require frequent replacement due to damage or discoloration caused by sun exposure or humidity.
Aesthetics Matter: How the Beauty of Wood Enhances Playing Experience
The Beauty of Wood adds to the appeal of wooden chess sets. There's something undoubtedly elegant about a handcrafted wooden chess set on a polished board, which can elevate the experience of playing the game. The natural grain and color variations in wood also add character to each piece, making them unique and interesting to examine. Wooden pieces are usually carved with intricate designs, unlike plastic ones that have uniform moldings. This gives the owner an emotional connection to these special pieces as they get used over time. Even when not in use, decorative wooden sets make wonderful displays for any room, adding warmth and sophistication wherever they're placed. Overall, it's no wonder why more avid players prefer using beautifully crafted woodworking sets for serious play or display purposes alike!
Environmentally-Friendly Choice: Why Choose a Renewable Resource
Environmentally-friendly choices are becoming increasingly important in today's world. Wooden chess sets offer a sustainable alternative to plastic ones. Wood is a renewable resource that can be replenished, unlike plastic which is made from non-renewable fossil fuels. By choosing a wooden chess set, you are making a conscious effort to reduce your carbon footprint and support sustainable practices. Additionally, many wooden chess sets are made from responsibly sourced wood, ensuring that the environment is not harmed in the process of production. Choosing an environmentally-friendly option like a wooden chess set not only benefits the planet but also adds to the overall value and authenticity of your game.
Importance of Weight in Chess Set Pieces for Better Play
The Connection Between Weight and Control in Chess
In playing chess, having the right weight of each piece can significantly impact your control over the board. Wooden chess sets provides players with pieces that have an ideal weight for a comfortable grip while also feeling solid on the board. Plastic pieces are often too light to give users good control and handling while wooden ones offer better stability, especially during rapid or blitz games where speed is key.
Moreover, a well-weighted set makes it easier to predict movements and plan ahead as you're less likely to accidentally knock over pieces or make mistakes due to unexpected imbalance. The added heft of wooden pieces helps keep them steady so they don't tip over during matches even after repeated moves – giving you confidence in your
Why Wooden Pieces Trump Plastic for Tactical Play
Wooden chess pieces have a weight and texture that plastic pieces simply cannot match. The weight of the pieces is an important factor in tactical play, as it allows for more precise movements and easier identification of the pieces. The tactile feel of wooden pieces also adds to the playing experience, making it easier to grip and move them around the board. In contrast, plastic pieces can feel cheap and flimsy, making it harder to focus on the game. For serious players or those looking to improve their game, investing in a high-quality wooden chess set with properly weighted pieces is essential.
Strategic Advantage: How Weight Affects Your Game
The weight of chess set pieces is a crucial factor that determines the overall playing experience. Heavier pieces offer better stability and are less likely to topple during gameplay, allowing you to focus on strategy rather than fixing the board. Additionally, the added weight provides tactile feedback when making moves, providing you with more confidence in your choices.
Furthermore, weighted pieces enable smoother gameplay as they glide effortlessly along the board. The added heft allows for easier maneuvering and capture of opponent's pieces without accidentally knocking over other nearby ones.
Choosing a high-quality wooden chess set ensures that each piece has an ideal weight distribution for excellent balance and feel. This small but significant feature can make all the difference in competitive
Mastering the Board: Choosing a Set with Properly-Weighted Pieces
The weight of the chess pieces is an important factor to consider for serious players. A heavier piece helps anchor it to the board and prevent accidental knocking over during play. It also provides better tactile feedback when making moves. Wooden chess sets tend to have better weight distribution than plastic ones, which can affect gameplay and lead to frustration.
Choosing a set with properly-weighted pieces can improve your game drastically and make it more enjoyable. Look for sets where the pawns are lighter in weight compared to other pieces, as this allows easier movement on the board. The kings should be heaviest and taller than other pieces, symbolizing their importance in the game.
Scope for Personalization with Handmade Wooden Chess Sets
Personalization is key when it comes to wooden chess sets. Many manufacturers offer customization options, allowing players to choose the type of wood, finish, and even intricacies in design. Handmade sets take this a step further, providing unique pieces with character that cannot be replicated by plastic molds. Customization not only adds aesthetic value but also allows for practical upgrades such as magnetic bases or compartmentalized storage boxes.
When purchasing a handmade set, keep in mind that the level of personalization may affect cost and production time. Some craftsmen may require orders well in advance due to their intricate designs and limited capacity. Nevertheless,investing in a handmade wooden set can provide years of enjoyment while adding an irreplaceable touch to your playing experience.
Value Proposition – Investing in High-Quality Wooden Chess Set is Worth it!
Investing in High-Quality Wooden Chess Set is Worth it!
A high-quality wooden chess set is an investment that will last for years to come. Not only will it provide countless hours of entertainment, but it can also become a family heirloom to be passed down through generations. Unlike plastic sets, wooden sets are durable and made to withstand wear and tear. They also offer a unique aesthetic that cannot be replicated by plastic.
Moreover, wooden chess sets are often handmade by skilled artisans, adding a personal touch and unique character to each set. While they may come with a higher price tag than their plastic counterparts, the value proposition of investing in a high-quality wooden chess set is undeniable. The longevity, beauty, and personalization make it a worthwhile investment for any chess enthusiast or collector.
When purchasing a wooden chess set, it's important to consider factors such as the type of wood used, weight of the pieces, and craftsmanship. By doing so, you can ensure that you're getting the best value for your money and a set that will provide enjoyment for years to come.
Factors to Consider when Buying Your First or Next Wooden Chess Set
When buying a wooden chess set, there are several factors to consider. First, you need to decide on the type of wood you want. Different woods have different colors, grains, and textures, which can affect the overall look of the set. Second, consider the size of the board and pieces. A standard tournament size board is 20 inches square with 2.25-inch squares, but you may prefer a smaller or larger size depending on your needs. Third, think about the style of the pieces. Do you want traditional Staunton pieces or something more unique? Fourth, consider your budget. High-quality wooden sets can be expensive, but they are worth the investment if you plan on playing frequently. Fifth, check for craftsmanship and quality of the set before making a purchase. Lastly, make sure to read reviews and do your research before making a final decision on your wooden chess set purchase.
Frequently Asked Questions
Q.Who invented the first wooden chess set?
A.The origins of the wooden chess set are unclear, but it dates back hundreds of years.
Q.What makes wooden chess sets better than plastic ones?
A.Wooden chess sets are more durable, elegant, and offer a better playing experience.
Q.How do wooden chess sets compare in price to plastic ones?
A.While some wooden chess sets can be expensive, they are often comparable or even cheaper than plastic sets.
Q.Who would benefit most from owning a wooden chess set?
A.Chess enthusiasts, collectors, and those who appreciate craftsmanship would benefit from owning a wooden chess set.
Q.What if I prefer the convenience of a plastic chess set?
A.While plastic sets may be more convenient, they lack the beauty, durability, and authenticity of a wooden set.
Q.How can I ensure my wooden chess set lasts for years to come?
A.Proper care and maintenance, such as regular cleaning and storage in a dry place, can help prolong the life of your wooden chess set.
{"@context":"https://schema.org","@type":"FAQPage","mainEntity":[{"@type": "Question", "name": "Who invented the first wooden chess set?", "acceptedAnswer": {"@type": "Answer", "text": "The origins of the wooden chess set are unclear, but it dates back hundreds of years."}}, {"@type": "Question", "name": "What makes wooden chess sets better than plastic ones?", "acceptedAnswer": {"@type": "Answer", "text": "Wooden chess sets are more durable, elegant, and offer a better playing experience."}}, {"@type": "Question", "name": "How do wooden chess sets compare in price to plastic ones?", "acceptedAnswer": {"@type": "Answer", "text": "While some wooden chess sets can be expensive, they are often comparable or even cheaper than plastic sets."}}, {"@type": "Question", "name": "Who would benefit most from owning a wooden chess set?", "acceptedAnswer": {"@type": "Answer", "text": "Chess enthusiasts, collectors, and those who appreciate craftsmanship would benefit from owning a wooden chess set."}}, {"@type": "Question", "name": "What if I prefer the convenience of a plastic chess set?", "acceptedAnswer": {"@type": "Answer", "text": "While plastic sets may be more convenient, they lack the beauty, durability, and authenticity of a wooden set."}}, {"@type": "Question", "name": "How can I ensure my wooden chess set lasts for years to come?", "acceptedAnswer": {"@type": "Answer", "text": "Proper care and maintenance, such as regular cleaning and storage in a dry place, can help prolong the life of your wooden chess set."}}]}